About us
Kitchens in which design, functionality and quality co-exist in perfect harmony. Designs that effortlessly transition into their surroundings, since 1983.
In everything we do, we want to be better. Driven by innovation, we never give in to our comfort zones. And to that we don't make any concessions. Every time we go for the best results, results that exceed every dream and expectation.
Nowadays the kitchen is so much more than just a space where you can cook and dine. It's the beating heart of the house, a place where everything and everyone comes together. Friendships are formed, stories are shared and everyday highlights are celebrated. And that's the reason why a kitchen design should make complete sense: from the design, the materials, the unique details and the functionality, to the routing, the appliances and the finish. We create kitchen designs in which every element – big and small – is in service of a bigger thought. The thought of enjoying the beauty of life to the fullest. We create kitchens designs that go beyond dreams and imaginations. Kitchens in which design, functionality and quality co-exist in perfect harmony. Designs that effortlessly transition into their surroundings, since 1983.
Our history
Since day one, the pursuit of perfection, the highest quality and innovation have been at the heart of everything we do at Culimaat. This is basically anchored in our DNA and it is the thing that binds us. The foundation for this view originates from 1983, the year the founder of Culimaat, Jan Swanenberg, started his own furniture workshop in Berlicum. Although the company initially focusses on manufacturing high-quality custom made furniture, the focus shifted over the years to the design and creation of luxury kitchen concepts. In 1994, an important milestone was achieved. By then Culimaat was the first in the Netherlands that started selling kitchens made by the Italian brand Valcucine. The first step towards the high-end industry was a fact! Meanwhile Culimaat was also working on developing their own brand, which was getting more and more brand exposure in the world of exclusive interiors and lifestyle. Due to this outstanding success, Culimaat decided to fully focus on high-end kitchen designs under their own brand name.
Co-owners and designers Twan and Davy Swanenberg literally grew up in their father's furniture workshop. This ensured that they would develop love for the profession at a young age. This is also the reason why Twan and Davy decided to take over the firm and continue their father's work. Under their inspiring leadership – and by the arrival of a new director in 2017; Herman Ossenblok  – Culimaat grew out to the magnificent company you are familiar with as of this moment. Today, Culimaat symbolizes the design and manufacturing of the most exclusive costum-made kitchen concepts.
Over the years, Culimaat has given the term 'kitchen' a whole new meaning.
Customization to enjoy life
"We are driven by making exceptional kitchen designs," says Twan. "While doing this we push boundaries and go beyond everything that is standard. Design, functionality and quality always have a shared first place in our kitchen concepts. These principles make sure that we can develop harmonious and high-end kitchens. The concepts meet the wishes of our clients. That's why the designs are an aesthetic enrichment for the total living experience. Every element makes sense, down to the smallest details. Only the best is good enough for Culimaat. That's why we approach every challenge as a unique project. By doing this we can create a fully customized concept that makes an important contribution to the overall enjoyment of living."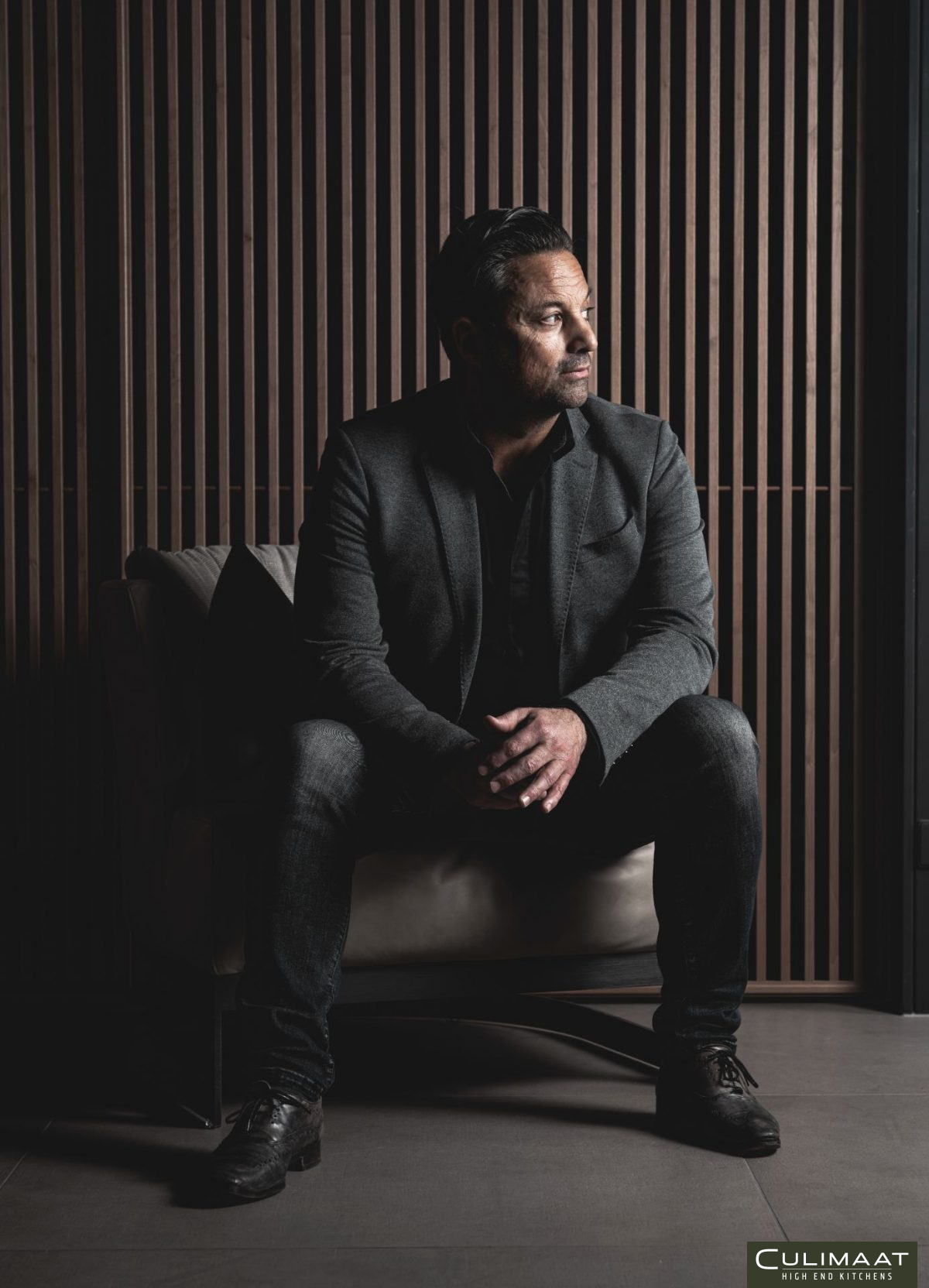 Each kitchen design is groundbreaking and unique
Customization, at Culimaat, means that every detail should suit the customers everyday life. That's why each high-end kitchen concept is a unique combination of design, colors, materials and finishes. It embodies the customers individual story. The kitchens are basically art objects that were designed in such a way that they optimally suit the user. Davy: "Nothing is standard. That's why we develop unique applications ourselves, these will be made abroad. For example, we get natural stone, metal and special finishes directly from Italy." Twan: "To do so, we visit well-known fairs, such as the Italian Salone Del Mobile. These fairs will inspire us. This will help us to learn, to think beyond boundaries and it will stimulate our creativity. We always go beyond the latest trends. What we create must still be beautiful in twenty years' time. That's why no kitchen design is the same, just like no customer is the same. Our concepts are formed by top quality. That urge for perfection is one of the main characteristics of Culimaat."
Showroom
The best way to experience our kitchen designs is when you can see and feel them.
Coffee Table Book 'High End Kitchens"
Culimaat proudly presents their first hardcover Coffee Table Book.